First, I'd like to give my heart-felt thanks to Big Frank for picking my incredibly lame comic as the winner of CC219. It was truly a shock, and now my roommate is suing me for the burn she sustained when I yelped out in surprise at seeing my name. So thanks a lot, buddy!
Secondly, thank you to those who entered this, my first contest! I hope the topic wasn't too lame for you. (I'm sure it definitely wasn't worth the wait.)
And now... (wait, let me find my announcer voice.)
Here to present the award for Best Comic in a Comic Competition Numbered 220... Vin Diesel and Rip Taylor!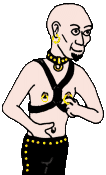 (Hold for applause.)
Vin: Hey, Rip Taylor! You've always been a big influence in my career.
Rip: Really, Vin? How so?
Vin: Well, you're always throwing confetti around. And I figure with all the shrapnel flying whenever there's a huge explosion in one of my movies, that's pretty much the same thing, right?
(Hold for laughter. Wait, that wasn't funny, move on.)
Vin: Anyway, Rip, Why did you bring your cat tonight?
Rip: I thought I'd change my schtick. I got tired of ripping your picture up for my confetti, so I'm going to squeeze Vin Jr until he coughs up a hairball on everyone. Hold for laughter.
Vin: You're not supposed to be reading the stage direction.
Rip: Oh. Sorry. Hold for larger laugh.
(Vin sighs.)
Vin: Let's just give out the award, okay?
Rip: Okay. Where's the winner?
Vin: Oy vey. Addresses audience. Oh, dammit!
(Addresses audience.)
Vin: The nominees for Best Comic in a Comic Competition Numbered 220 are... Cut to clips.
Rip: Kaddar, in Salad II: Brother of Salad.
Vin: Rabid Weasel, in Animal Farm. A stunning, if somewhat disturbing performance. Oh, that's not on the teleprompter. Sorry.
Rip: Chi the Cynic, in G****s of Wrath.
Vin: Kaufman, in Chitty Chitty Bang Bang.
Rip: Read it again, Vin.
Vin: Oh, my! How naughty!
Rip: And Codehappykid, in that great epic tale, Flowers for Algernon.
(Hold for applause.)
Vin: And the flick-Scar goes to...
Rip: I'm so excited.
Vin: Then open the envelope.
Rip: I thought you had it.
Vin: Look over there at the script. It plainly says you're supposed to have the envelope!
Rip: Listen, VD... Hehe... Did you know that your initials --
Vin: If you value your mustache, you will not complete that sentence.
Rip: Well, we still need an envelope.
Announcer:
Please welcome, from backstage, our intern: Uh... I forget his name... but here he is with the envelope!
Intern: The winner is me. Kaddar. As a special treat, here's my flick-Scar-winning strip, Salad II: Brother of Salad!
[Click to view comic: 'COMPETATIVE COMIC TWO TWENTY! "Salad #2! BROTHER OF SALAD!']
Kaddar: Thanks for nothing, you two. Thanks for joining us. It looks like I'll be hosting the next Comic Competition. See ya soon!
(Cue music, as Rip Taylor and Vin Diesel exit the stage, still bickering about that stupid envelope.)