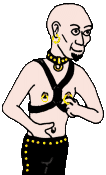 Your mission: All the the Stripcretor characters have died! But you, Dr. Frankenstein, will create a new character from the parts of the fallen!
The rules: Create a new character using parts from any of the current characters or props. For example, an arm from Gabe, a head from wirthling, a carrot from the snowman, a hat made from the TNT rocket.
The character can be any size you want -- it does not have to fit into normal stripcreator panel dimensions. The more ridiculous and funny, the better.
The only thing you can't do is create new parts. You have to use parts from existing characters. You are allowed to make reasonable modifications to blend the different parts together smoothly.
Judgement... Wednesday night, some time after the premier of West Wing.
---
...Trot and Cap'n Bill were free from anxiety and care. Button-Bright never worried about anything. The Scarecrow, not being able to sleep, looked out of the window and tried to count the stars.