[color=red] Hello, I have two stories to tell. They are both crap and uneventful. I will then post some related pictures of spiders to make my message look more interesting.
Pretty crap spider story number one.
There's a spider living in my carport. A golden orb weaver I think although I have not seen it. He likes to build a web at face height on the entrance to the carport. The first time I walked through this web I thought, "ah, spider web, I hope the spider didn't get on me". I then removed the web from my face and hair and was relieved to not have a spider on my head. I then put the incident out of my mind, which is why when I left the house the next day I again walked through the web. The stupid prick had built it in the same place! He got me again, the bastard, but I pulled his stupid web off my face and got on with it. I again didn't store this information in my brain, as the event was over in my mind. But the very next day as I set off the same thing happened. I thought, "you shit, stop building your web there. It's not safe." And I now had retained the knowledge in my brain that this web will return. I forgot though and destroyed the web with my face again. Now we're in a situation where I'm dumb enough to walk through a spider web in the same spot every day and the spider is dumb enough to keep building a web that's going to get wrecked every day. I cured my dumbness however. I thought the spider had won the war, I was now walking over the other side of the carport and he can have his home where he so wants it to be. But I'm still an idiot, you see. I returned to walking through the web not three days later. Since then I have avoided it but I have had guests walk through it and it keeps coming back. That is my first crap spider story. It doesn't have an ending yet but this is what I am hoping for: The spider, satisfied that the carport is a nice place to live, ventures to the roof to bask in the sun. While doing so a bird eats him. I then walk through his web with my mouth open and it never returns. I will always wonder, did I eat the spider?
Pretty crap spider story number two.
The date was 25 December 2010, about 2:00am. I had just watched the television broadcast of another pretty crap story, Eight Crazy Nights by Adam Stantler. I should begin a slumber, I thought, as I had events scheduled for the day. But first a bowel movement. I had just sat down when something caught my eye, moving along the wall with haste. Usually I would destroy it with an open palm strike but this was a rather sturdy looking spider, I was not confident that my hand carried the mass required for the job. Fortunately I had not yet begun the process I had entered the room for, so I was able to get up to retrieve an aide. My Collins Australian School Dictionary, fourth edition. A required item in my school's curriculum. It is laminated so you can easily wipe the guts off. Now with the force of my arm swing, and the mass of the dictionary, the spider on the lavatory wall would meet an end. I re-entered the room and this spider knew I was out to harm him. I think he erroneously suspected I was when I first entered the room. A tragic mistake as had he not attempted to flee he may still be alive today. I swung the book at the spider. This is when he decided he would put in all the fight he could, which was ultimately none. As the book begun its descent the spider let out a war cry (internally as I don't believe spiders can speak), and dived off the wall at the book. He knew his enemy. He was going to get that book before it got him. But that's an idea a brave spider had in an instant. The eventuated reality was that the dictionary swiped him out of the air, slammed him against the wall and delivered a crushing death. A death much more brutal than had the spider stayed on the wall crying in fear and praying to survive. But from the murderer's perspective it was fucking cool. I don't know what kind of spider he was. He was about three inches long and stocky. His name as Robert.
I treated these spiders as males in the crap stories even though they were females. That's because no one cares about female characters.
Now on to the picture section. Pictures make crap stories look interesting. That's why Spot is so lovable.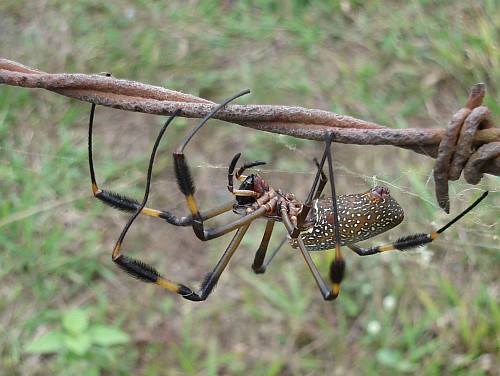 Hello. I'm a golden orb weaver. I like to build a web where you will walk in to it. I then leave the web to watch from a distance as you do. LOL.
Here I am snickering at your misfortune.
I spent ages building this beautiful web. I hope no one walks through it. Lol just kidding I am counting on it.
Hey mate are you going to the carport? I will get a lift if that's okay. Then I'm going to build a trap for your face lol.
I am going to use this paper to keep a diary of all the suckers I have got with my awesome trap!!
Hi I'm a white tail. I'm not in either story but I have nowhere else to be today.
And here now is a Spot cartoon
[/color]
---
Batman created by Bob Kane